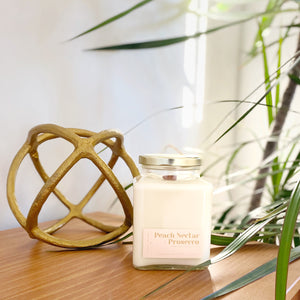 Peach Nectar + Prosecco
Regular price $31.00 Sale
Fragrance Notes: Peach Nectar, Apricot, Prosecco
Laketown Soap Co. candles are hand poured using 100% soy wax, natural fragrances and essential oils, and have a softwood wick that crackles as it burns.
It is recommended to keep the wick trimmed to 1/8".  19oz candle will provide approximately 95hrs of burn time. Remove any char from wick before relighting.
Tip: The first time you light your candle, allow the melted wax pool to reach the entire surface across the jar, edge to edge. This will ensure a good "burn memory" and enable your candle to burn this way each time you light it, avoiding candle tunneling.